How to Borrow Money with No Job: Emergency Loans for Unemployment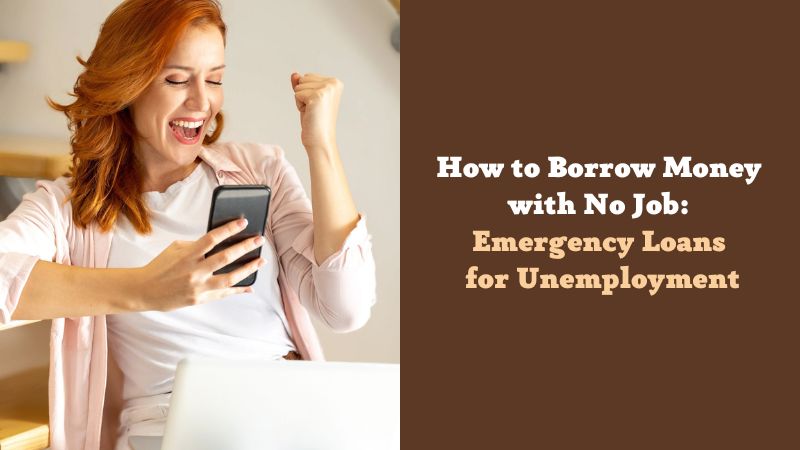 Financial emergencies may arise at any time. Regretfully, many of us will face an emergency sooner or later. What can you do when this happens? How can you get the money you need urgently? Can I get a personal loan if I am unemployed? If you currently have no job, it makes it much more difficult when an emergency arises. If you're currently in need of fast cash loans without a job, then read this article.
Many people who are having an emergency may not know where to seek help. Unexpected medical bills, car repairs or home improvement, or even unexpected college costs can ruin your well-planned budget.
Table of Contents:
Can I borrow money if I'm unemployed?
The chances of being approved for a personal loan, even if you are not employed, depend on four factors: alternative income, debt-to-income ratio, your credit score, and your credit history.
Alternative income
If you have no proof of employment for any reason, you can provide the lender with alternative income options to prove you're able to repay what you borrow. Below are some alternative income sources you may be able to use when borrowing money without employment.
Alternative income sources:
Unemployment benefits;
Retirement benefits/pension;
Trust fund;
Social Security benefit payments;
Alimony/child support;
Spousal income;
Disability;
Freelance work;
Rental property;
Dividends or interest.
If you already have funds in your savings account, or a pending job offer, those can also be a source of income for some creditors.
Debt-to-income ratio
Another factor that lenders may consider when assessing whether you have the ability to return the money is your debt-to-income ratio. Your debt-to-income ratio compares how much you owe each month to how much you earn. Gross income is all the money you earn before taxes and other deductions are subtracted.
If your debt-to-income ratio is too high, a creditor may use this as an indication that your income is not enough to pay both your debts and day-to-day expenses.
Credit history
Your credit history is a record of your borrowing and repayment activity. A pattern of timely payments on your credit report, with no late or missed payments (especially recently), can reassure lenders that you are a responsible borrower. Most lenders also prefer credit reports that contain no negative events such as bankruptcies or non-payments.
Credit score
Lenders usually reserve their best offers – the ones with the lowest interest rates and minimum fees – for borrowers with FICO Score in the very good or excellent ranges. Credit scores are calculated using data from your credit reports, so if your credit history is good, your credit score is typically high. But before you apply for a no income loan, you may be able to raise your score quickly (within a few months) by paying down any credit card balances that exceed 30% of their cards' borrowing limits, or immediately with Experian Boost.
Emergency loans with no job: top 6 options
If you just don't have a job and do not qualify for bank products, there are six alternatives to getting fast cash:
Apply with a co-signer. If your credit score prevents you from getting approved for a personal loan while unemployed, you may use a co-signer. A co-signer could be your spouse, a parent, or a friend who has a good credit score. A co-signer is a person who is obligated to pay off the loan just as you, the borrower, are obligated to pay. There are both pros and cons of having a cosigner on a loan. Do not forget: if you miss payment, you're both on the hook financially.
Use a credit card cash advance. If you are a credit card owner, you are probably able to get a cash advance up to a certain limit. But here are a few costs to consider. You will have to pay a transaction fee for this service. The APR for cash advances is typically higher than the APR for credit card purchases. And interest often begins to accrue at the time of the withdrawal, meaning there's no grace period. Some credit cards offer low fees for cash advances.
Refinancing: If you have equity in your home or car, you may qualify for refinancing that allows you to cash out some of your equity. Home or car equity loans usually come with a higher interest rate than home equity lines of credit, so you end up paying more interest over the entire lending period.
Debt consolidation. If you're having difficulty paying off all your bills, you could consolidate (or combine) all your debt into one payment so you can focus on a single payment. Some debt consolidation loans might require collateral. And remember that these products don't get you rid of your debt. Consolidating could increase your interest rate, and consolidating to a longer term can be costly.
Get a joint personal loan. Like a co-signer, this product involves two borrowers—a primary borrower and a co-borrower—applying on one application. What is the difference? With a joint personal loan, both applicants will be equally responsible for the payments and jointly own the property at the end of the lending term, whereas the co-signer only shares the responsibility for the monthly payments if the primary borrower is late or defaults. This can benefit friends, family members and couples in which one person has no job while the other has a stable income.
Apply for a home equity line of credit (HELOC). If the above-suggested options are not suitable for you and you do not own a home, a home equity line of credit, also known as HELOC, may be able to help you get emergency cash with no job. A HELOC is a second mortgage that gives you access to cash based on the value of your home. It's not based on your income. It's a revolving line of credit that can be used as needed. While a HELOC has no income requirement, it uses your home as collateral. If you miss or skip payments, be very careful and consider choosing another way to get financial assistance.
All of the options given above require serious consideration — weigh all the pros and cons if you are not eligible for traditional financing options to find out which may fit your needs and budget.
Loans for the unemployed with bad credit
If you currently have no job and have a poor credit score, it may be much more difficult for you to get approval.
Having a bad credit score can negatively affect a lot of aspects of your life. It will be more difficult to get approved for loans, credit cards, lines of credit, and more. The simple fact is that lenders find it risky to work with borrowers who have poor credit histories. Having a low credit score means that you haven't been responsible when making payments in the past.
But what exactly is "poor credit"? Well, a few companies track your financial life and then give you a three-digit score based on how responsible you've been with your funds.
The most common type of credit score is called the FICO score. FICO is one of the major credit bureaus that track your financial behavior. There are 5 types of FICO score ranges:
800–850: Exceptional credit
740–799: Very good credit
670–739: Good credit
580–669: Fair credit
0–580: Poor credit
The way the credit bureau works is pretty simple. First, FICO pays attention to your financial behavior. For example, they track how many financial accounts you have opened, how you manage credit cards, whether you pay debts on time, etc. Then, FICO compiles this data into a three-digit number that represents how responsible you are as a borrower.
Lenders tend to offer funding options to borrowers with good and exceptional credit scores. However, if you have poor credit and also have no job, you can still be eligible for $500 online loans without proof of income.
Top 5 options for borrowers with bad credit
Great news! There are a few products that you might be eligible for if you have no job and have a poor credit score. But remember that many of the easily available options will be costly. Because you have bad credit, you may only be eligible for costly options. And since you are not employed, the easiest way is to get a secured no income loan.
This product requires some type of collateral as a condition of borrowing. Collateral is a valuable asset that the lender can sell if the borrower fails to make payments. Collateral is important for banks to reduce their risk. It acts as an added layer of security for the creditor.
There are, however, unsecured loans with no credit check that unemployed borrowers with bad credit may qualify for.
The following options are those you may be eligible for even if you have no job and have bad credit:
Borrow from family or friend
If available, these might be the easiest way to borrow money, but keep in mind the possible downsides. Even if the borrowing involves no interest, you risk losing someone close to you if you fail to return the money on time. Also, some people just don't want to share their financial problems with their close ones.
Title loans
These are short-term secured borrowings that use the title of your vehicle—such as a car, truck or motorcycle—as collateral. The lender inspects your vehicle and determines its value. A car title loan allows you to borrow anywhere from 25% to 50% of the value of your vehicle.
If you fail to make payments on time, the lender can repossess your vehicle and sell it to recoup the money lost. You'll be left with no vehicle and damaged credit. Thing carefully: is it worth the risk of losing your vehicle?
Borrow from an investment or retirement account
If you're having an emergency, you call your investment or retirement account manager to find out if you can borrow from your account. When you borrow money this way, you don't have to worry about tough credit score requirements or high interest rates. Such a loan allows you to borrow the money you've saved up in your retirement account with the intent to pay yourself back. Reasons to borrow from your investment or retirement account include speed and convenience, repayment flexibility, and cost advantage.
Pawnshop
Pawn shop loans with no credit check are an option if you need some quick cash. It is a convenient way to borrow that doesn't require too much documentation. To get fast cash, you go to a pawnshop with something that you're willing to leave as collateral – jewelry, electronics, stocks, bonds, musical instruments, fine art, and more.
If you don't return the money on time, the lender will repossess your collateral and sell it to make their money back.
Payday loans
Payday loans are unsecured. This means that you borrow cash without offering any collateral. Instead, these products are offered based on the borrower's promise to pay off the debt. But since the process does not involve any collateral, it may be more difficult to access payday loans than those with collateral.
Some payday lenders may check your credit history or want you to provide proof of income, but you might find some that won't. This may seem reasonable if you have no job or have poor credit.
Since payday loans are unsecured, they are more expensive – lenders typically charge $15 for every $100 you borrow. It's very important to repay the debt on time, otherwise, your debt can grow significantly.
It's very easy to get unemployment payday loans. You just need to fill out a short application. You can find no job payday loans online or at storefront locations. If approved, you receive the funds instantly and you usually only have 1-4 weeks to pay it back. Available amounts are small and typically range between $100 and $1,000. A few lenders are able to lend up to $2,500.
What are the benefits of payday loans for unemployed people?
Why do more and more Americans choose unemployment payday loans? Some benefits are given below:
They don't require any collateral. You do not need to secure any assets to borrow $1,000.
They are convenient and easy to access. The entire process is online. You can fill out an application and sign an agreement from the comfort of your home.
They are speedy and reliable. Since borrowers usually apply for cash advances during emergencies, lenders process applications very quickly and send the funds as soon as possible.
They don't affect credit scores. No job payday loans do not damage your credit score.
How to find the best emergency loans without a job – 2022?
Today there are many microfinance institutions on the financial market offering their services to borrowers. The terms of cooperation can differ significantly: there is always a corresponding offer for demand. For example, someone prefers to receive money online. For other clients, it is important that the lender does not pay attention to their bad credit histories.
To find the best unemployment emergency loans for your needs, you can use online referral services that compare offers from different lenders and select those that match your request. It is much easier to search for the best lenders online with the help of referral services than to visit the websites of each lender separately and compare offers. Our referral service has done most of the work for you – all you have to do is take advantage of the results of data collection and use the best option.
By the way, you can apply for a cash advance online immediately through our website. This is very convenient since you do not need to go to a search engine to find the lender's website.
Thanks to referral services, you can quickly find the lender that offers the most beneficial terms of cooperation.
Can I borrow cash if I just started a new job?
A job is always helpful for getting approved, even if it is new. If you have just started working you may have to prove your salary. You can typically do this by providing a copy of your employment acceptance letter to the lender. Or you can also share a few pay stubs.
Proof of employment is especially crucial if you have a poor credit score. But you can consider borrowing as a great opportunity to boost your credit score fast.
To help raise your credit score, you must use a lender that reports your payment history to at least one of the three major credit bureaus: Experian, TransUnion, and Equifax.
If you want those reports to be positive, you should always pay debts in a timely manner. It could positively affect your credit history if you repay your debt faster than expected.
Risks of borrowing while unemployed
Using a no income loan comes with risks for both the borrower and the lender if you skip payments.
Let's look at some of those risks before you borrow money with no job:
Higher interest rates: If you are not employed, you could still get a no-income loan today — but it's more likely to come with a higher interest rate. This means higher overall costs.
Missed payments: One of the worst-case scenarios when you get a loan while unemployed is not being able to pay it off. Failing to repay the debt can hurt your credit, lead to collections and make an already tough financial situation even more challenging.
Shorter repayment term: If a lender decides that you're a risky borrower, you may get an offer with a shorter repayment term.
Borrowers' guide – what factors to look for before borrowing cash without a job?
Unemployment may cause some extra worries when trying to borrow cash. There are some additional factors you should consider before getting a personal loan without proof of income.
Can you repay the debt on time? You should consider if your income will allow you to pay off the debt in the agreed time frames. Whether you are taking a personal loan, a payday loan or an installment loan for bad credit, it will make the process much more comfortable if you are sure that you will have the funds on your account by the due date.
Are you satisfied with the terms and rates? It would be better if you always had a perfect understanding of the agreement you are signing, including interest rate, charges, fees, late payment penalties, and many more. If you have any questions or concerns, contact the lender as soon as you can.
Have you weighed the risks? You must always think about whether the benefits outweigh the possible risks of borrowing money, including damage to your credit score. You should understand to what losses are you subjecting yourself if you default. We also recommend carefully calculating all charges, including the interest rates and origination fees (if any).
What if your application is denied
If you have no job and are not eligible for any funding options, there are still options you can use to plan financially.
Evaluate bills and try to reduce expenses. If you have difficulty making payments on your bills, credit cards or other loans, you can negotiate with companies and lenders directly. You might also try to cut nonessential everyday expenses.
Monitor your credit score. Do not forget about your credit score when you're having a financial emergency. Keeping a good credit score can help you in the long run. You can get a free copy of your credit report every 12 months from each credit reporting company without hurting your score. And if your credit is far from perfect, there is something you can do to help boost your score.
Find alternative sources of income. Make your own money so you don't have to become a borrower. There are online companies that pay people to take surveys, sign up for a gig-working platform, test websites and apps, proofread content, etc.
Evaluate your savings and emergency funds. If you have funds in a savings account or emergency fund, maybe it's high time to use it. Every situation is different and you'd better speak with a financial consultant if possible.
Search for other aid. Not everyone has a cosigner, or collateral, or additional income. It's important to know what financial assistance is available today, from short-term assistance with your utility bills to state support for unemployed. There are charities, non-profit organizations and other companies that offer financial support for service industry workers, freelancers and people struggling to pay their medical bills. And if you are in need of food, you can learn more about how to access food banks.
Unemployed emergency loans FAQs
Can you get a loan without a job?
Yes. Many lenders are willing to consider sources of alternative income. If you don't have a job, you may be still able to borrow cash right now.
How to qualify for a payday loan while unemployed?
Most online lenders require you to be a U.S. citizen or permanent resident who is at least 18 years old and has an active checking account. It is quite possible to qualify for a payday loan when unemployed. The main thing is to have an alternative source of income, such as Social Security, unemployment or disability benefits, child support, and an interest rate will be beneficial. Even if you don't have these sources, you can still be eligible with spousal income, pension, alimony, or investment account.
What credit score do I need to get a loan with no job?
The credit score requirement for a personal loan while unemployed varies by creditor. Generally, you'll need a score of at least 580 to get approved.
If you need fast cash and don't have time to boost your credit score, you still have options. Consider loans for bad credit. These lenders are ready to work with poor-credit borrowers and you are more likely to get approval.
Should I get a personal loan while unemployed?
Yes, if you really need money – and if you're sure that you will be able to make payments on time.
If you can't afford to make monthly payments, look for a less challenging way to deal with expenses.
Where can you find the best emergency loan without a job?
A payday loan is best suited for getting cash quickly. They don't involve collateral, such as a home or a car. They are available from many lenders, both storefront and online.
A great place to apply for any short-term or long-term loan is a financial institution where you have an active checking account in your name. Even if you have bad credit and no job, a company may still meet you halfway.
You can also consider applying with a local credit union. Credit unions often have affordable rates for their members and may also have relaxed credit score requirements. You can become a credit union member for at least a few dollars – a small price for a great borrowing option.
Online lenders usually provide no employment verification payday loans for unemployed with quick approvals, and it's easy to use online referral services to submit a single application to multiple lenders at once. Such services can show you the right offers for your budget and credit score.
How to get an emergency loan with bad credit?
Generally, you will require at least a fair credit score to qualify for emergency installment loans for unemployed. If you have no job and a low credit score, you might have limited options for borrowing cash in an emergency.
Fortunately, you can boost your chances of getting approval by using a cosigner or requesting less money.
Can I get emergency loans if unemployed with no bank account?
Generally, not having a bank account even with a steady job will lead to your application being declined. The reason is the lender will deposit the funds into your bank account directly and get paid back the same way. If you have no bank account, you could be anyone and lenders know it could be challenging to recover the borrowed money.
Can someone under 18 take out a loan?
In the U.S., you absolutely have to be at least 18 years old in order to legally sign an agreement. The only way someone under 18 can borrow cash is to use a parent or guardian as a co-signer because most minors have bad credit.
Can I get a fast cash loan without a credit check if unemployed?
Payday lenders do not perform hard credit checks. They know that most people they will work with have bad credit, so they expect this to be the case. During the review process, the lender will pay more attention to the income you have or will have soon.
Conclusion
Everybody may need extra cash while looking for a job. However, the lack of a regular income from unemployment makes getting accepted for a personal loan difficult.
Since you probably don't have a source of large income, lenders might find you a risky borrower. Still, you can find an option with an affordable interest rate to cover your emergency bills.
We have highlighted the pros and cons of various funding options and hope this will help you find the best lender for your unique needs. Fortunately, there are companies on our list that are willing to work with unemployed people.
These are typically online lenders that are ready to give you instant approval. They offer affordable unsecured loans without proof of income even to customers with low credit scores. Their emergency loans for unemployed with no job verification have flexible terms and can be user for whatever purpose so you can cover your unexpected expenses: like groceries, medical treatment, car repairs, utilities, and rent.
So, when you need a safe payday loan (also known as cash advance), you can use these online lenders to get the best deals and also learn useful tips for first time loan users. Just fill out a short application, wait for approval, e-sign the contract, and get ready to have funds in your bank account within a few hours!